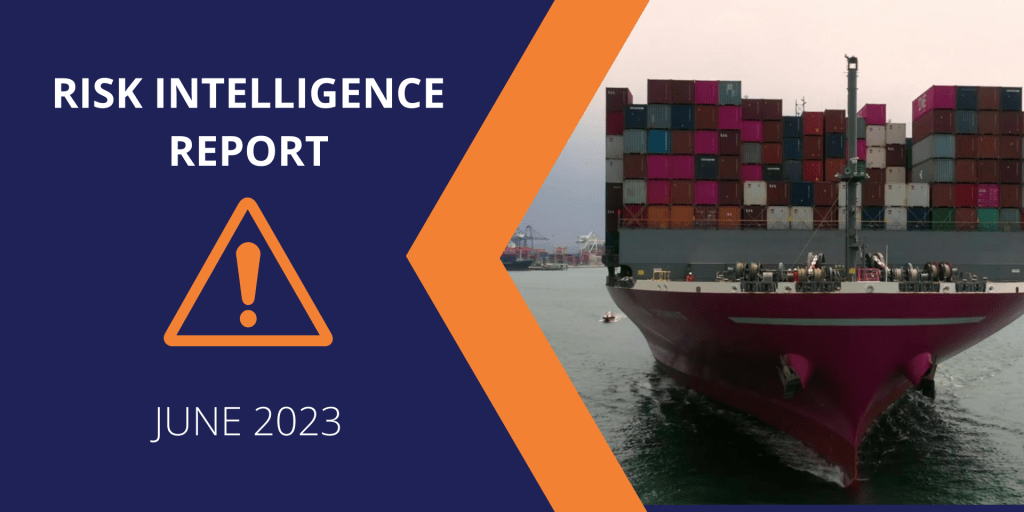 In our ongoing commitment to providing valuable insights, ESS Maritime is pleased to present the latest edition of our Risk Intelligence report for June 2023, focusing on maritime security incidents in East and West Africa. This report aims to keep you informed about significant activities and incidents, highlighting the importance of adhering to best practices and ensuring adequate security measures onboard your vessels.
Although no severe situations occurred during the month, there were notable incidents where prompt action following the Best Management Practices version 5 (BMP5) instructions prevented potential encounters with armed pirates. In one instance, the presence of armed security onboard successfully averted a potentially dangerous situation, compelling the intruders to retreat.
It is important to note that the incidents reported here represent only a fraction of the actual occurrences. Numerous unreported incidents take place regularly, underscoring the necessity for consistent vigilance and adherence to recommended security protocols.
Let us now delve into the specific incidents reported in June 2023:
East Africa:
On 4th June 2023, approximately 27 nautical miles north of Mina Saqr, a merchant vessel encountered three small crafts carrying armed personnel. Following the BMP5 guidelines, the vessel executed self-protection maneuvers, resulting in the departure of the small crafts after 30 minutes. Both the vessel and crew remained unharmed.
On 27th June 2023, near Port Saleef in Yemen, a suspicious approach occurred. Two small crafts with armed individuals approached a vessel, coming as close as 50 meters on the port side. Although weapons were observed on the small crafts, no shots were fired. The vessel swiftly increased its speed and maneuvered strategically to evade the potential threat. Eventually, the small crafts left the vicinity, and the vessel and crew reported no harm.
West Africa:
From 16th to 23rd June 2023, in the vicinity of Conakry, approximately 16 nautical miles south, an armed boarding took place on an anchored merchant vessel. Four armed individuals forcefully obtained money from the vessel's safe. Following the incident, the armed persons departed, leaving the crew and vessel unharmed.
On 28th June 2023, at the Takoradi anchorage area, a theft occurred on a merchant ship during the night. Three robbers were involved in the incident. Fortunately, the crew remained safe throughout the incident.
At ESS Maritime, we understand the paramount importance of timely information and effective security measures to mitigate risks in the areas where your vessels operate. Our dedicated team is ready to provide comprehensive support, ensuring you remain well-informed and equipped with the necessary measures to safeguard your ships.
Contact us today to benefit from our expertise and reliable assistance.