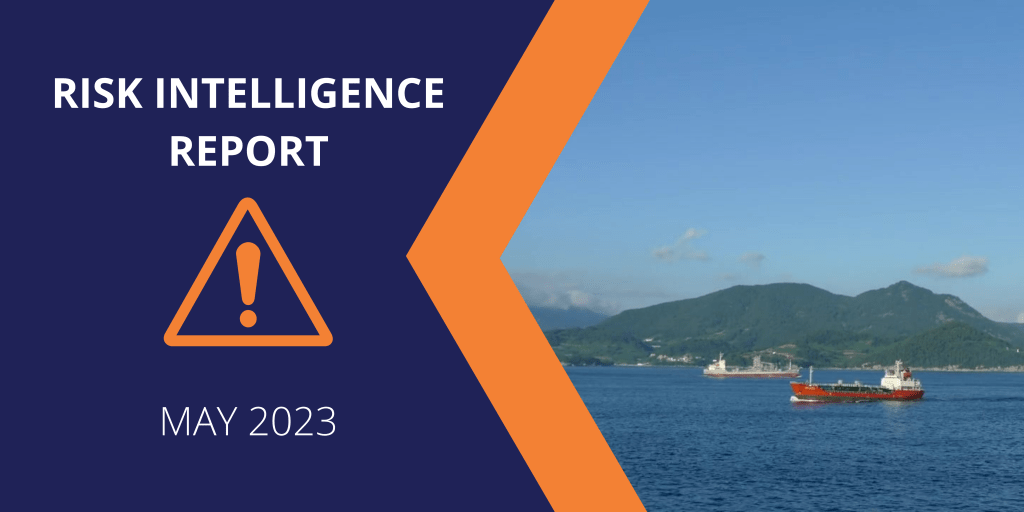 Do you want to stay informed about the maritime security developments in high-risk areas that occurred in the month of May? Take a look at our monthly Risk Intelligence Report. We keep you updated on events that may be relevant to you and provide insights to help you prepare and protect yourself. Our aim is to identify trends and keep you up to date. Please note that we only describe the reported incidents and events, but it is important to be aware that numerous incidents may go unreported through official channels.
May 2023 Incidents
Here are some of the officially reported incidents that occurred in May 2023.
Has it been a calm month in East Africa?
The UK Maritime Trade Operations (UKMTO) has not reported any notable attacks in the past month. However, they have issued warnings about military actions and training exercises in various areas in and around East Africa. It is essential to be aware of these developments to understand what to expect in the region and conduct a proper analysis.
Three Crew Members Kidnapped in the West Africa Region
In West Africa, an incident was reported last month:
On May 2, 2023, in Gabon; Three seafarers were abducted from an Eagle Bulk Shipping bulker anchored off the coast. The attack on the 58,000-dwt Glebe Bulker, built in 2010, occurred 4.7 nautical miles from the Owendo anchorage. The captain, second mate, and third mate were kidnapped, while the remaining crew members were reported safe and uninjured. On May 22, 2023, the three crew members were released after approximately three weeks in captivity. To learn more about this incident here.
No further reported incidents can be mentioned this month. However, it is important not to assume that there is no looming danger due to the absence of reported incidents. After peaceful periods like these, it is crucial to be more vigilant than ever and ensure that your security measures are up to par. Attackers remain active and take advantage of perceived calmness to observe and strike.
We are here to help you understand all the risks in these areas and navigate through them safely, fully complying with local regulations, which must always be taken into consideration.
Contact us, and together, we will develop a tailored plan to meet your needs.