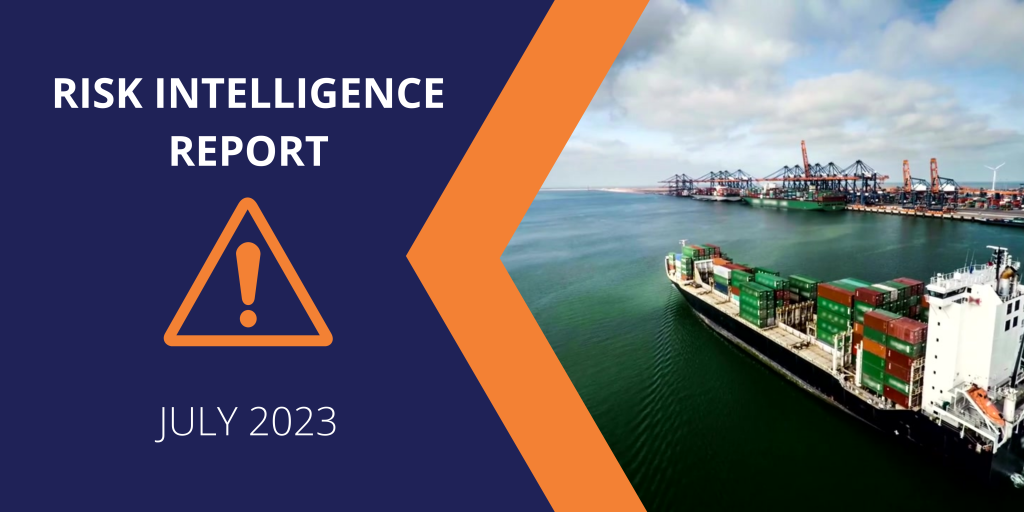 The treacherous waters of West Africa have witnessed a considerable increase in incidents during July 2023, making it one of the most hazardous regions for maritime operations. ESS Maritime, as a leading maritime security provider, has dedicated significant time and effort to provide its esteemed clients with comprehensive insights into the escalating dangers that confront vessels navigating these troubled waters. By equipping its clients with crucial information, ESS Maritime strives to enhance their preparedness and proactive approach in the face of growing threats.
West Africa, with its vast coastline and intricate waterways, has become a hotbed of criminal activities such as piracy, armed robberies, and abductions. The surge in such incidents calls for heightened vigilance and stringent compliance with local authorities' regulations. ESS Maritime, armed with a wealth of expertise and data-driven intelligence, is committed to ensuring its clients are well-prepared to tackle these maritime challenges effectively.
Incidents in West Africa
30th June 2023, off the coast of Douala: Description: An attack occurred on two fishing vessels, with exchanged gunfire leading to the successful repulsion of the attackers.
30th June 2023, Douala anchorage: Description: A MV was attacked, and a group of individuals boarded the vessel, abducting some crew members. Thankfully, the remaining crew and the vessel are now safe, with local authorities investigating the incident.
5th July 2023, approximately 14nm south of Conakry: Description: A small boat carrying about six individuals attempted to board a vessel using ladders. Prompt action by a crew member, who pointed a light at them, deterred the attackers, and they turned away from the vessel, heading towards open seas. The master confirmed the safety of all crew members.
5th July 2023, Northern part of Sierra Leone waters, bordering Guinea: Description: Eight perpetrators attacked and robbed a vessel, resulting in gunshots being fired.
10th July 2023, Takoradi Port: Description: Crew deck patrols discovered a partly removed razor wire on the forward bow port side, with two individuals spotted on board. The bridge watch was immediately informed, and a General Alarm was raised. The crew was mustered, and during the alarm, two persons jumped from the deck into the water and escaped on a blue wooden boat, where an additional two persons were waiting. Fortunately, the crew remained safe, and no vessel properties were stolen. All padlocks were found intact.
20th July 2023, near Kitombe Port: Description: An unknown group of men boarded a vessel from a small boat, broke into a container, stole items, and swiftly departed. The alarm was raised, and a search was conducted, ensuring the safety of the crew and vessel.
22nd July 2023, 18 NM southwest of Freetown Port, Sierra Leone: Description: A fishing vessel was hijacked by 13 unknown persons. However, the crew and vessel were reported as safe.
Incidents in East Africa
Incident approximately 28nm northeast of Muscat: Description: Shots were fired in the area, but the incident is now over, and both the vessel and crew are safe, as reported by UKMTO.
Escalating incidents West Africa
The escalating incidents in West Africa underscore the critical need for our maritime operators to remain vigilant and proactive in safeguarding their crew and vessels. ESS Maritime stands firmly by its commitment to providing timely and comprehensive risk intelligence to its clients, ensuring they stay well-informed about the evolving threats in these high-risk areas.
As the situation in these regions remains dynamic and unpredictable, clients must prioritize the safety and security of their assets at sea. By adhering to the regulations set forth by local authorities and adopting robust security measures, our maritime operators can significantly mitigate risks and respond effectively to potential threats.
In the face of the challenges posed by piracy, armed robberies, and abductions, ESS Maritime urges all clients to take proactive steps to protect their crew and vessels. Staying informed, remaining compliant with the ever-changing regulatory landscape, and implementing effective security protocols are crucial to ensuring safe and successful maritime operations in these high-risk areas. 
With ESS Maritime as a reliable partner, clients can navigate these perilous waters with confidence and peace of mind.