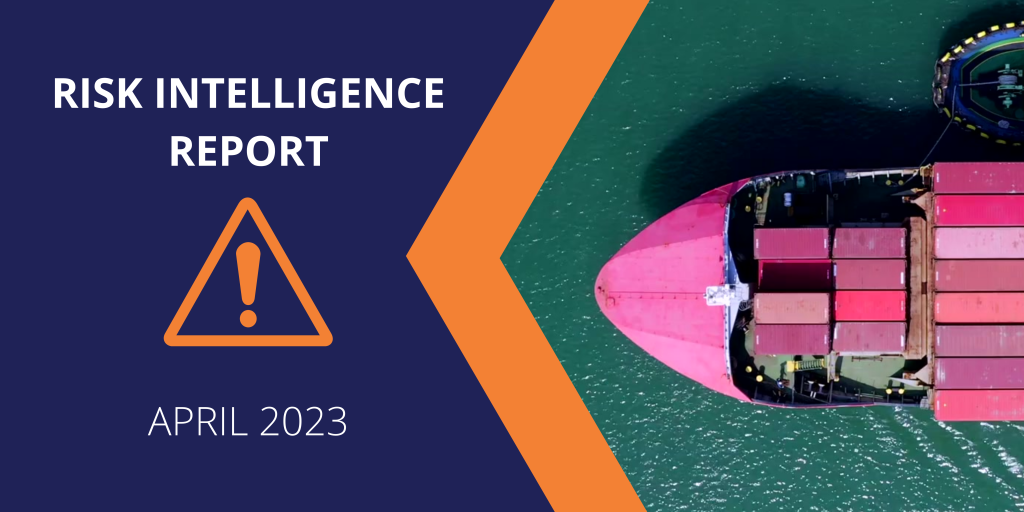 As we enter the month of May 2023, ESS Maritime's Risk Intelligence Report provides an overview of the incidents that have taken place in high-risk areas at sea during the month of April. With sources from MDAT GoG and UKMTO, we bring you up to date with the latest information on incidents that have occurred in West and East Africa. Our report emphasizes the importance for clients to remain vigilant and take necessary precautions to protect their crew and vessels from the ongoing threats.
April 2023 Incidents
Here are some of the officially reported incidents that occurred in April 2023.
West Africa
April 10th: Location: 00°07N 004°34W, south-south west of Abidjan: MT Success 9 was boarded by an unknown number of persons. Read more about this incident here.
On April 15th MT Success 9 was found located 65nm South of Abidjan. Vessel and crew are safe.
April 19th: There was an attempted theft on a cargo vessel (NAME-WITHHELD) whilst it was anchored at Luanda, Angola. Fortunately, nothing was taken and the crew are unharmed.
April 25th: Whilst anchored at the inner anchorage in Luanda port, Angola, an unknown number of perpetrators boarded a fast intervention vessel (whose name has been withheld) and took one outboard engine from an FRC. The crew has reported that they are safe.
April 28th: Alongside Lagos Terminal, a cargo vessel (whose name has been withheld) was robbed by a group of 6-8 armed perpetrators. Upon being spotted by the crew, the robbers immediately escaped overboard to their boat. No items were reported stolen, and the crew has confirmed their safety.
East Africa
April 28th: Location: Red Sea off Yemen: A private yacht with three Russians and two Egyptians on board was attacked by unknown gunmen. The yacht sustained substantial damage, but the crew managed to escape and are safe.
UPDATE: There is a new piece of information regarding this incident. The authorities have confirmed that it was an activity carried out by a government agency. As a result, the event has been downgraded from an attack to an incident.
April 27th: Location: Gulf of Oman: In the Gulf of Oman, Iran's navy has captured an oil tanker flying the flag of the Marshall Islands. The vessel, identified as the Advantage Sweet by the US Navy's 5th Fleet based in the Middle East, was heading to the United States when it was seized. The capture is the latest in a series of similar incidents that have taken place in the Gulf of Oman, a strategic waterway for global energy supplies.
Conclusion
As the situation in West and East Africa remains volatile, ESS Maritime advises its clients to take necessary precautions to keep their crew and vessels safe. It is important to remain aware of the ongoing threats and follow the best practices to mitigate risks. ESS Maritime is committed to providing the latest information and insights to help its clients navigate these challenging waters.
Stay informed and protected by reading ESS Maritime's monthly Risk Intelligence Report. Be aware about potential threats and attacks, and take the necessary steps to safeguard your vessel and crew.
Please contact us so that we can provide you with a suitable and tailor-made security proposal.
Together, we will ensure safety at sea!