Maritime Security
Risk Intelligence
Security Alert
West Africa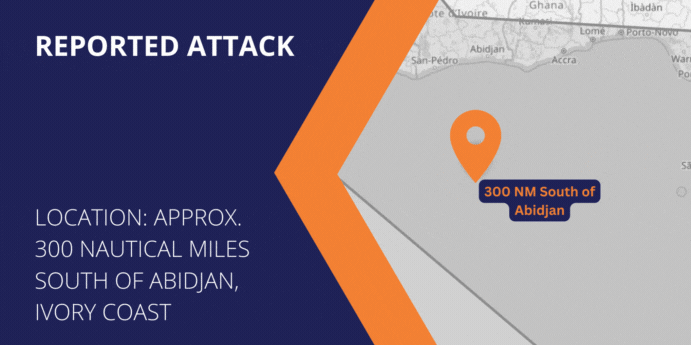 An ongoing attack has been reported by the Maritime Domain Awareness for Trade – Gulf of Guinea (MDAT-GoG) information centre. According to the MDAT-GoG, the latest incident occurred on Monday, 10th April, about 300 nautical miles (nm) south-southwest of Abidjan, Ivory Coast. The British-French monitoring effort has issued a warning stating that a group of unidentified individuals has boarded a product tanker approximately 300 nautical miles south of Abidjan. The situation is ongoing, and no additional details have been provided.
Pirate Activity in the Region
This is believed to be one of several incidents where pirates are attacking bunker tankers in the region to steal oil. The MDAT-GoG has warned of the continuing danger in the area and highlighted that a mothership might have been used to launch the attack since it is beyond the normal range of the skiffs. As a result, the mothership could still be in the area and able to launch other attacks or receive stolen cargo.
Increased Risk and Vigilance
We are also warning of an increased risk in the region during this ongoing incident. Vessels in the vicinity are urged to be vigilant and promptly seek assistance if any unusual or threatening situations arise. It should also be noted that our security services are available for those who require them.
Stay Vigilant and Seek Assistance
In summary, if you are in the Gulf of Guinea region, please remain vigilant and report any suspicious activity immediately. Contacting security services may also be necessary to ensure your safety and that of your crew.